Monday, May 23, 2011
Now that I've entered the digital age (very late, I may add) I have tons and tons of pictures just sitting there on my computer, unorganized. Enter... Mobile Life Studio Plus - External Hard Drive!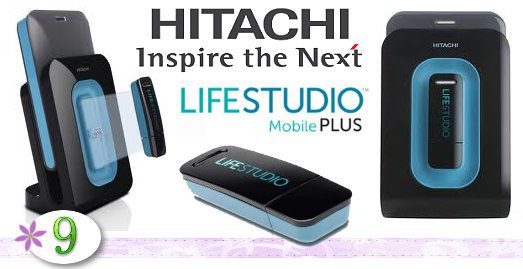 This baby is great for organizing all my pictures, but it also is great at backing up documents, music, and so much more.
The Hitachi Life Studio Mobile Plus External hard drive is available in 250 GB, 300 GB, and 500 GB. It also includes an auto-sync 4 GB USB key. (My daughter has already grabbed it twice! She loves it!)
I love that it is simply a plug and go type application. I am so not computer savvy and I set this up all by myself!
The features include:
Organization and Sharing

: First drive that automatically pulls together and organizes photos, videos, music and documents from your computer, connected USB devices or social media outlets; making content easier to access, view and share. Interact with photos on Facebook™, Flickr™ and Picasa™ without leaving the app.

3D Navigation

: The only external drive that displays files on a stunning 3D wall, eliminating the need to dig through folders and files to find them.

Backup Redefined:

Offers both local and online cloud backup within one interface – no more downloading and installing two separate programs. Online content is stored in its natural format, making files available from any Internet browser.

Access to Favorite Premium Content:

For the first time within an external drive, users can search, filter, watch or subscribe to millions of titles from online content providers. Catch the latest news, TV shows and music videos, or play online games, from within the LifeStudio app.

Grab n' Go Flexibility:

First in the industry to feature an integrated USB key. Drag content onto the key for use on the go, making it easier to collaborate on team projects, share photos with friends and family, or transport documents between home and work. Modified content syncs with the drive when the key is docked.
I think my favorite feature is the way I can view my photos. It's like a wall of thumbnails that make it much easier to view and to organize my photos, music files, etc. If someone as computer illiterate as I am can use this, think how wonderful it will be for you! I don't know how I managed to find anything before now that I have the Life Studio Plus. I also feel a little more secure knowing that those all important photos and documents are backed up onto this hard drive. That way if something horrible happens to my computer, my images and documents are safe!
So, you want one for yourself now, don't you? Well, hold on to your hats because one of you lucky readers will win your very own Hitachi Life Studio Plus External Hard Drive, valued at $139.99!
Please visit Hitachi and tell me another product you are interested in. Please leave your email in the comment if it's not visible on your profile. (jane smith at yahoo dot com)
Extra Entries:
Please leave a separate comment for each entry:

Contest ends Tuesday, June 7th, 2011. One winner will be randomly chosen from all correct entries. Winner will be notified by email and have 72 hours to respond or another winner will be chosen. This contest is open to residents of the US , ages 18 and over. Prize will be shipped directly from the sponsor.

Disclosure: I was generously given these products for the purpose of a review. The sponsor has also offered a giveaway. The opinions are all my own and free of charge! Ü
Contest is over and winner has been notified. Thanks to all you amazing readers!